Mikhail Saakashvili, who went on a hunger strike more than a month ago, was hospitalized. He was taken out of prison by helicopter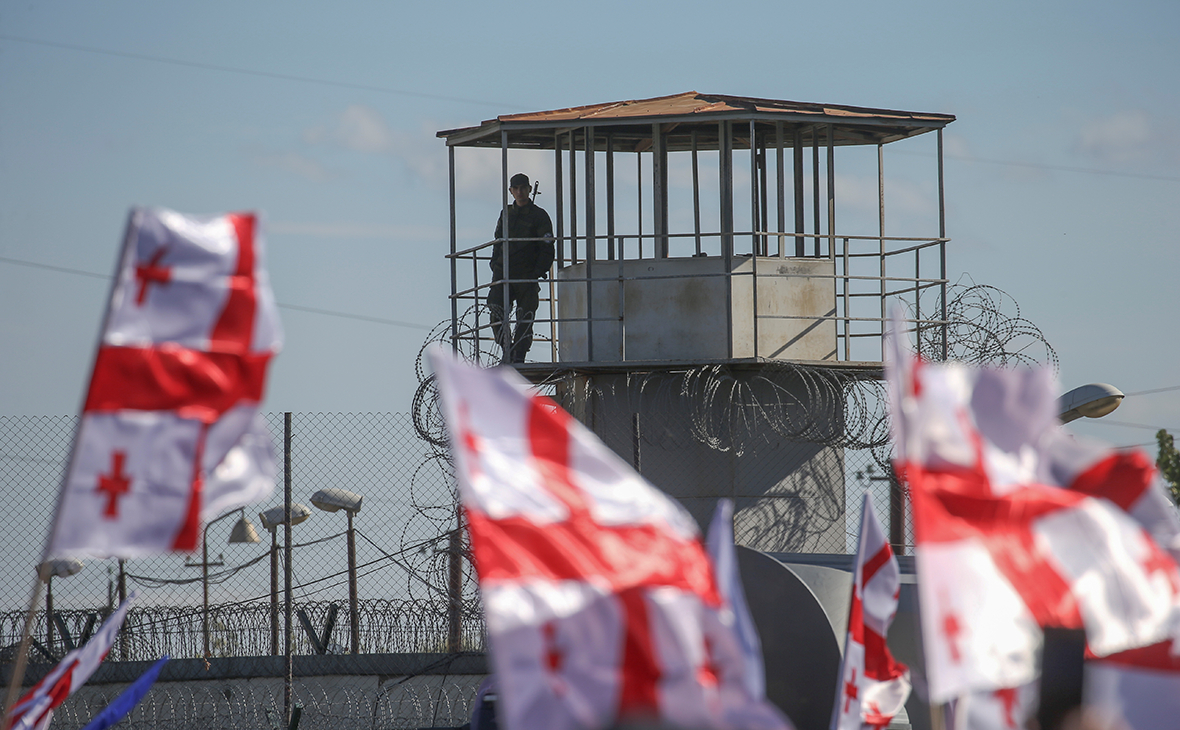 Opposition rally near the prison where Mikhail Saakashvili was held
Ex-President of Georgia Mikhail Saakashvili was transferred from prison in Rustavi to a hospital for prisoners in Tbilisi. This was reported by the Rustavi 2 TV channel. with reference to the statement of the Special Penitentiary Service of Georgia.
" Prisoner Mikhail Saakashvili was transferred from the 12th penitentiary to the Medical Facility for the accused and convicted # 18 in order to prevent the deterioration of his health and in connection with the increased risks, '' & mdash; The TV channel quotes the service's statement.
The fact that Mikheil Saakashvili was taken out of the prison in Rustavi was previously reported by his mother Julie Alasania, Mtavari Arkhi TV channel reports. According to the TV channel, a few hours ago a helicopter appeared over the prison where Saakashvili was kept, after which it flew in the direction of Tbilisi. After that, the helicopter was spotted near the Gldani prison in Tbilisi.
Saakashvili was detained in Georgia on October 1. He returned to his homeland for the first time in eight years on the eve of municipal elections; several criminal cases have been initiated against the ex-president in the country. Immediately after the arrest, the politician went on a hunger strike, after which his health began to deteriorate.
The politician's personal physician Nikoloz Kipshidze today repeated his call to send Saakashvili to the hospital. " The council unanimously decided to urgently transfer the patient to a multidisciplinary medical institution, the Gldani Prison Clinic is not on the list of such institutions. Test results: some were good, some were bad. The condition is worse than it was yesterday '', & mdash; he said (quoted from RIA Novosti). However, according to him, doctors have not yet been able to meet with Saakashvili, since the politician himself refused to meet.
Earlier, doctors, defense lawyers and Saakashvili's supporters stated that because of the hunger strike he began to lose his memory, that he is weak, it is difficult for him to move around the cell and talk. At the same time, on November 6, the Ministry of Justice of Georgia published footage from the prison, which shows how the politician takes food. According to published photographs of the food that Saakashvili is passing on, he eats porridge and drinks natural juices. On November 7, after the video was published, Saakashvili refused any help from doctors.
Subscribe to RBC's YouTube Live broadcasts, videos and recordings of programs on our YouTube channel