"Let's check not only our air defense, but also someone else's"
On November 11, the Russian Aerospace Forces continued to fly bombers over Belarus. A pair of Tu-160s flew towards the Polish-Belarusian border. Earlier, the Ministry of Defense of the Russian Federation explained why two Russian Tu-22M3s appeared in the skies of Belarus on November 10. According to the military, they took part in checking the Unified Regional Air Defense System of the Union State. This explanation did not suit the Poles. They linked the flights of bombers with an exacerbation on the Belarusian-Polish border. Minsk responded by saying that such flights will become regular.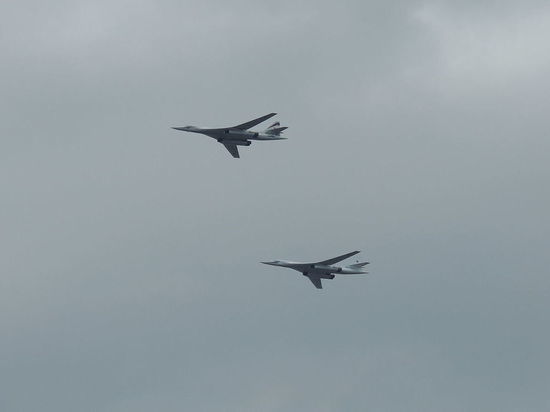 Photo: Lorianna1978/ru.wikipedia.org.
MK asked military experts what real combat missions were carried out by our bombers in the skies of Belarus?
– The subtext is known – & nbsp; this is the new Military Doctrine of the Union State in action. That is, we will now cover the Belarusians not only with our " nuclear umbrella '', but also with this kind of aviation. Previously, the issues of protecting our two countries concerned only air defense issues and a few more points. Now they will cover in full all types and branches of troops, including Long-Range Aviation. Therefore, the Tu-22M3 and Tu-160, flying over the Belarusian territory and actually mastering the new airspace, checked our and Belarusian air defense. And along with the air defense of the western neighbors.
Do not forget that Tu-22M3 aircraft are also capable of carrying on board the Dagger hypersonic aviation missile systems, which can, among other things, work against ground targets. These planes are also excellent at placing bombs on them – & nbsp; conventional and corrected. During the military operation in Syria, Tu-22s regularly flew and dropped such " greetings '' on the head of all sorts of " barmaley ''. We trained. And if the Poles are now concentrating their troops at the borders of Belarus, then it is not superfluous to show them: if anything, then these troops will not even be happy.
I'm not talking about the Tu-160, whose X-101 missiles are capable cover any target in Europe.
– Tu-22M3 serve for our and Belarusian air defense as control targets that are subject to detection. The data is transferred to the control system from the Moskovsky Air Defense District to the calculations of the Belarusian air defense operating in its area of ​​responsibility. Of course, when these planes fly, we always check our duty forces. & Nbsp;
Well, and another rather significant issue that needs to be worked out is how our aviation – & nbsp; bomber, tactical – & nbsp; any, will return because of the " front line '' after completing combat missions. If we assume such a critical moment: our aircraft go into the depths of the enemy's territory during the conduct of hostilities. A situation arises that requires working off. That is, here, at home, we know all the routes, who flies where, we pass everyone across the border … How will they fly back? Whom to shoot down, whom to skip? Who's yours, who's a stranger? This also requires appropriate practice and preparation.
Commander of the Long-Range Aviation of Russia (1997 & mdash; 2003) Lieutenant General Mikhail Oparin gave a short commentary on MK even though at that moment he was in the hospital with severe lung damage due to covid. Mikhail Mikhailovich conveyed his greetings and wished health to all " long-range '', and also reminded:
– Long-range aviation of Russia conducts such flights to check air defense constantly. We have always been, are and will be the biggest " enemies '' for " pevoshnik ''. The main control training targets for air defense have always been Long-Range Aviation aircraft. In my youth, I regularly flew to check our air defense system. We even have the following words in the anthem of the Long-Range Aviation: " and in the air defense again the excitement – the 'long-range' has broken through. an unprecedented route. '' So, I don't see anything surprising in the fact that we are now helping to strengthen the unified air defense system of the Union State of Russia and Belarus. And those who do not like it, I think, will survive. And let them draw the right conclusions.