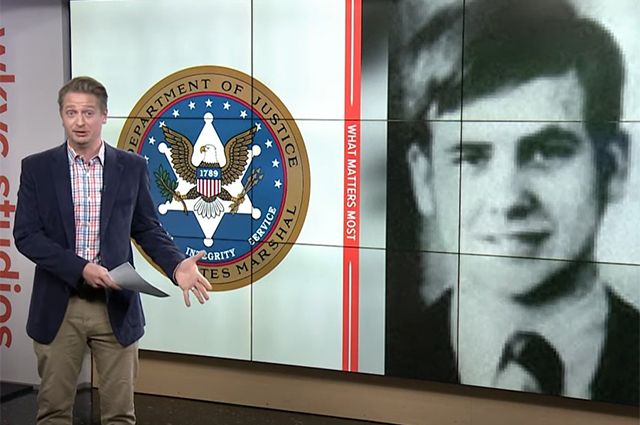 The attacker, who could not be detected for more than half a century, was identified by the American law enforcement officers. True, a person who robbed a bank is no longer threatened with a prison cell & mdash; & nbsp; he died happily in a circle of loved ones.
" I will do it ''
In 1968, a picture was released director Norman Jewison The Thomas Crown Affair starring Steve McQueen and Faye Dunaway . The story of a bored intellectual millionaire who comes up with and implements the ideal scenario of a bank robbery later became a classic detective movie.
Among the fans of the tape was a 19-year-old native of Denver Theodore Conrad … He graduated from high school in Lakewood, Ohio in 1967, then went to college, and two years later found himself a job at the Society National Bank in Cleveland.
The young cashier did not cause any fears among the bank's management & mdash; & nbsp; smart, broad-minded, benevolent. During his school years, Theodore was the soul of the company, and the teachers predicted a great future for him. But the Thomas Crown Affair had an unexpected effect on the novice bank clerk. After watching the film half a dozen times, Theodore, in the company of his friends, began to talk about the fact that the security system in their bank is imperfect, and it is easier to take money from there than in a movie. "And I'll do it," "concluded Theodore Conrad. Friends took these words as a joke.
& nbsp; & nbsp; & nbsp; & nbsp; View this post on Instagram & nbsp; & nbsp; & nbsp; & nbsp; & nbsp; & nbsp; & nbsp; & nbsp; & nbsp; & nbsp; & nbsp;
215,000 paper bag
On Friday 11 July 1969, he entered the bank vault to wrap the money. Since such operations were part of his official duties, no one attached any importance to this. At the end of the working day, saying goodbye to his colleagues, Konrad went home. & Nbsp; Theodore turned 20 the day before, and he carried with him a large paper bag containing a bottle of whiskey and cigars & nbsp; on the weekend the guy wanted to celebrate his birthday adult.
On Monday, Theodor Konrad did not show up for work. And the bank's vault was missing $ 215 & nbsp; 000, which is about $ 1.7 million in 2021. The cashier managed to take out of the bank not only whiskey and cigars.
The police went to the young man's home, but that was gone. Two days off, when no one knew anything about the theft, he used to get away. At that time, they did not take fingerprints from the bank employees, and even a fresh photo of the attacker was not found & mdash; & nbsp; I had to use the school one. However, at first, the police were confident that they would be able to find the daring criminal quickly.
In 1969, Theodore sent two letters to his girlfriend & mdash; & nbsp; one from Washington, and the other & mdash; & nbsp; from Southern California … In them, he talked about his act and expressed regret that it happened. However, Konrad was not going to give up.
" And where the hell is this Konrad? '' & nbsp; As time went on, the investigation did not stop, but there was no news of Konrad. One day, a married couple said they had seen a similar person in Hawaii, and the police arrived in Honolulu to check the story. But they failed to find the trail again.
For one of the guards, John C. Elliot, the hunt for Konrad has become a lifelong affair. After retiring in 1990, he continued to search privately. "This is my arrest warrant and I want him to be detained," "Elliot told reporters. The affair, he confessed, deprived him of his sleep.
Peter J. Elliott, the son of a retired criminal hunter, said that his father repeated the phrase at the table for years: "Pass the mashed potatoes! And where the hell is this Konrad? '' As a result, the son followed in his father's footsteps, joining the law enforcement agencies. In the end, Elliot Jr. brought this story to an end.
Ohio bank robber Theodore Conrad, who disappeared 50 years ago, was identified as a dead man https://t.co/inlCYfg63P
& mdash; MCU Times (@mcutimes) November 13, 2021
Hint in the obituary
Over the decades, detectives have traveled many states, literally turned Hawaii, but never found the thief. & Nbsp;
An obituary published in May 2021 in Massachusetts gave a clue: " Thomas Randall, from Linfield, died on Tuesday 18 May at his home surrounded by a loving family. Born in Denver, Colorado on July 10, 1947, the son of Edward and Rutabet Randall . Tom grew up and educated in Colorado before moving to the East Coast to attend New England College. ''
With Theodor Konrad, the deceased was united by the date of birth & mdash; & nbsp; July 10 & mdash; & nbsp; the names of the parents, as well as the place of birth and further study. When the federal marshals started a more thorough check, it turned out that the signatures of Conrad and Randall coincided.
A conversation with the relatives of the late Randall put everything in its place & mdash; & nbsp; it turned out that the father of the family on his deathbed revealed his main secret wife and daughter. Indeed, Theodore Konrad, who robbed the bank, lived under the name of Thomas Randall for half a century.
Although Konrad's story has appeared on various television programs, including the extremely popular in the United States, no one suspected the wanted criminal as a respectable family man.
Family man and cook
In 1970, Konrad settled in Massachusetts, having managed to obtain documents under a new name, and was not seen in any other criminal acts. He became a professional golfer, then changed his role as an athlete to the profession of a manager. Later, he became involved in the sale of premium cars, devoting several decades of his life to this business. He married, raised a daughter and was considered almost an exemplary representative of society. In his declining years, the man became interested in cooking shows, becoming, according to relatives and friends, an excellent cook.
The cause of death of 73-year-old Theodore Conrad, or Thomas Randall, was lung cancer. His absentee enemy, Federal Marshal John C. Elliot, did not wait for the case to be solved & mdash; & nbsp; he died a year earlier than the thief, in March 2020.
American journalists drew attention to one point: the fugitive criminal lived for half a century not far from the place where his favorite movie was filmed & mdash; & nbsp; The Thomas Crown Affair.
Law enforcement officers have proven that no matter how many years pass, they are able to detect an intruder. But taking into account all the circumstances, perhaps we must admit that this story ended in a draw.