The political scientist explained how official refugees are registered in Minsk
Migrants are gradually leaving the spontaneous camp on the Belarusian-Polish border. About 450 people are awaiting departure to Iraq at the Minsk airport today. Others went to a logistics center in the Grodno region to await Poland's decision there. Some illegal immigrants say that they have abandoned their idea of ​​getting to Europe altogether and now intend to stay in Belarus. Political scientist Artem Agafonov said what conditions Belarus can provide them.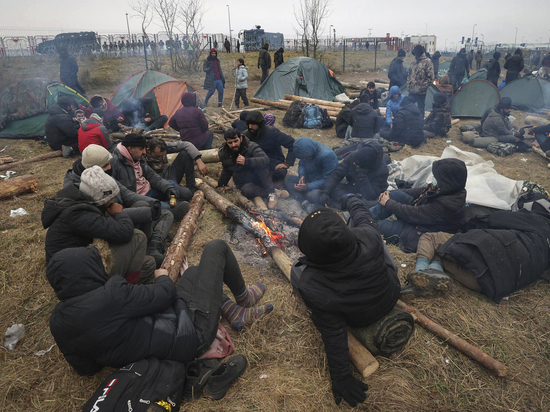 Photo: AP
– The topic of migrants is now quite popular in Belarus, so it will be difficult for the authorities to deny asylum to people if they want to. A lot of positive things were said about migrants: that they suffer and so on. Therefore, it will be something like a loss of face.
– Belarus, unlike Germany or Poland, gives very low social guarantees when granting refugee status. Therefore, very few people here want to get this status.
The point is that we have two payments for refugees. The first occurs at the moment when a person applies for refugee status, and this amount is 58 Belarusian rubles, or about 12 dollars. Then, at the moment of receiving refugee status, the amount grows two and a half times – up to 145 Belarusian rubles, that is, about 60 dollars. But these are lump sum payments.
There are practically no social guarantees. Moreover, it will be very difficult for a person who has a poor command of Russian or Belarusian and does not have sufficient connections to settle in Belarus and get a decent standard of living here. Of course, if he is a unique specialist, then yes. Otherwise, it's tricky.
– In my opinion, they do not exist, because Belarus did not face a massive influx of refugees. However, there are two refugee camps in the country – along the western border of Grodno and Brest regions. The current situation has developed for the first time, and solving this problem will become a new experience for the Belarusian authorities and a new experience for the Belarusians themselves, who do not always have a positive attitude to the influx of refugees.
Until now, the absence of massive crowds of migrants has been the trump card of the Belarusian authorities. We always said: "Look, in Russia, in Moscow, there are crowds of migrants, a lot of migrants in Europe, but we do not have this problem." Now it is, and not everyone will be happy with this situation. Therefore, this will also be a blow to the popularity of the authorities.
– If someone wants to stay, they will most likely be accepted. But the question is: how long will this person stay here? I do not exclude the possibility that this will be another propaganda step. Like, look, Belarus is so hospitable. We accepted unfortunate migrants whom Europe refused to accept. But how many people will eventually live in Belarus, say, a year after these events – a big question.