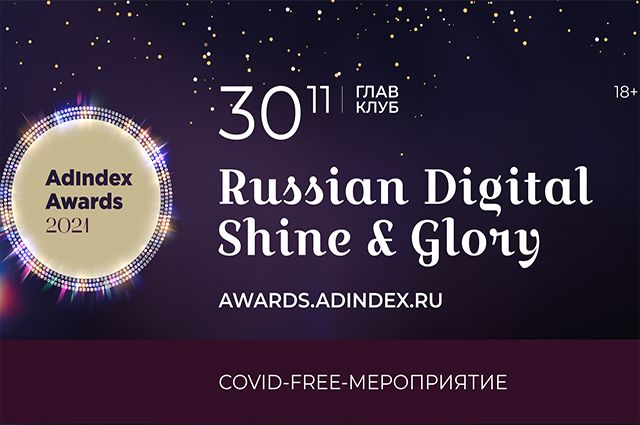 On November 30, the Glavklub will host the seventh annual ceremony of presenting the professional award in the field of Internet communications AdIndex Awards 2021. The event will bring together the main participants of the digital market: advertisers, owners and top managers of digital and media agencies, opinion leaders and representatives of platforms.
The concept of this year's award & mdash; " Shine bright like a Digital! ''.
It was the digital industry that kept people two years ago from a real social and economic blockade and gave the world new opportunities and, most importantly, energy. Just yesterday, content makers called the Internet just a " signal delivery vehicle. '' Today, Netflix, HBO, Apple TV etc products occupy the first lines of public attention. Likes, shares, and comments are more expensive than gold.
The organizers are confident that " nothing is more invigorating than the thought of the possibilities of AI, AR, VR and the prospects for pumping creativity with the help of new technologies. Data makes the world clear and transparent. '' People have yet to answer the question of whether they are ready to live in a crystal castle without privacy. Let the future be more scary than happy for now. & Nbsp;
The motto of the event is & mdash; Shine bright like a Digital & mdash; refers not so much to growing investments as in the golden age of advertising, but to discovering the endless variety of opportunities that the digital era offers. & nbsp;
The awards ceremony will traditionally be held in an informal atmosphere of a cyber party. Guests will enjoy a buffet table, free-bar, live music and traditional draws.
Ceremony & mdash; COVID-free event. Access to the site is possible only upon presentation of the QR code of a person who has recovered from COVID-19 or a QR code of vaccination. You can also show the QR code of the PCR test taken no earlier than 72 hours before the start of the award. Wearing masks at the awards ceremony is required.
Ceremony partners: & nbsp; Httpool, Yoola, Sunlight & nbsp; Outdoor, Realweb.
& nbsp;