In this regard, he is being transferred to a military hospital – closer to South Ossetia
The Ministry of Justice of Georgia has decided on the future fate of ex-President Saakashvili. No, he will not be handed over to Ukraine or even transferred to a civilian clinic, as he and his support group demand. He will be taken to a military hospital in the city of Gori, which is located 80 km from Tbilisi, near the border with South Ossetia. Of course, if there is his consent. This was announced today, November 19, by the Minister of Justice of Georgia Rati Bregadze.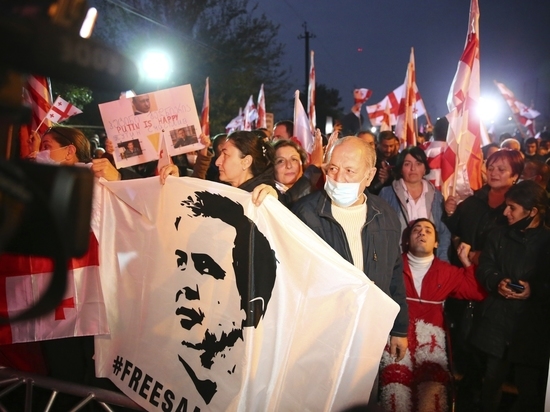 Photo: AP
So far, the reaction of Saakashvili himself to this proposal is unknown. But his relatives somehow found out about him in advance. Rumors about the impending transfer of Saakashvili to Gori spread the day before. It was reported, in particular, by the Mtavari Arkhi TV channel. On the night from Thursday to Friday, Georgian journalists noticed a car at the gates of the Gldani prison, in which was the mother of ex-president Giuli Alasania. His half-brother Giorgi Saakashvili, as well as representatives of the Ministry of Justice, were on duty nearby.
On November 18, Saakashvili fainted in the hospital of the Gldani prison during a meeting with lawyers, after which he was placed in intensive care. There he was examined by a neurologist who came to the conclusion that the ex-president needed to have an MRI of the brain.
Meanwhile, the Georgian authorities continue to come under unprecedented pressure in connection with Saakashvili, both external and internal. Thus, the Ombudsman of Georgia Nino Lomjaria announced a threat to the life of the ex-president and demanded that he be transferred to a civil hospital. According to the ombudsman, the starving politician is in danger of falling into a coma or an epileptic seizure, which can lead to death.
Lomjaria referred to the data of doctors who discovered the ex-president's brain disease – Wernicke's encephalopathy. By the way, this neurological disorder, manifested in brain damage due to vitamin B1 deficiency, is most common in chronic alcoholics.
In turn, Saakashvili, who had not yet fallen into a coma, turned to the United States for help. Through his lawyers, he handed a handwritten note to the American agency reporters, in which he warned that "if the United States does not come to protect me, this will be a terrible signal for all pro-Western leaders and peoples." Thus, Saakashvili vividly reminded of his predecessor, Shevardnadze, who in 1993 from burning Sukhum appealed for help to his "friends" – Western leaders. He was saved, as you know, by Russian paratroopers.
Well, for my part, I would like to note that if the United States "comes to protect" Saakashvili and puts pressure on Georgian justice, it will be a "terrible signal" for all peoples, who will be able to make sure that the "pro-Western leader" is allowed everything: he can steal from the budget, kill and maim his citizens, and for this he will get nothing.
So far, there is no reason to believe that the Georgian authorities wavered and retreated. Moreover, they cannot be denied a kind of sense of humor. It seems that they set themselves the goal of leading Saakashvili to the places of his "military glory", or rather, the crimes he committed. The first stop is the Gldani prison, which during his presidency became a place of monstrous violence against people.
The second point of the program can be the military hospital named after Georgiy Abramishvili in Gori, which in its current form was opened in 2006 within the framework of preparation for a military conflict with South Ossetia. Previously, a military hospital, left over from Soviet times, was located in Tbilisi. But after Saakashvili came to power, it was decided to move the military hospital closer to the theater of the upcoming hostilities. In August 2008, it came in handy. The hospital is not bad, it has all the latest equipment you need. Saakashvili is well aware of this, since this medical institution was created when he was in power. Surely there you can do an MRI of the brain, which our patient needs. So there seems to be no reasonable reason for him to refuse.