A political scientist of the Institute of CIS Countries has analyzed the role of Tokayev in the Kazakh protests
The first president of Kazakhstan, Nursultan Nazarbayev, removed by President Tokayev after protests from the actual levers of power, remains completely silent. Andrei Grozin, head of the Central Asia and Kazakhstan Department of the Institute of CIS Countries, spoke about what will happen to him next and how likely the version of Kassym-Zhomart Tokayev's involvement in the Kazakh riot is.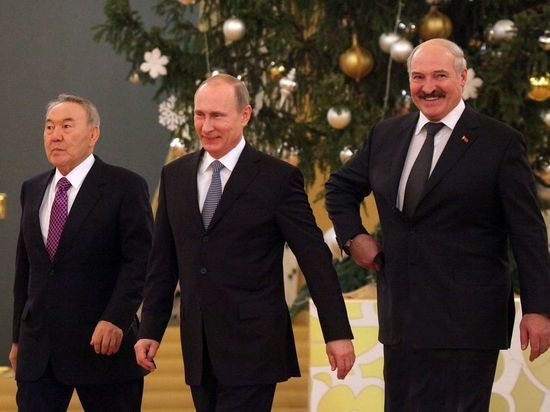 Nazarbayev, Putin and Lukashenko at the EurAsEC summit. 2013 Photo: Natalia Gubernatorova
– Tokayev is a man from Nazarbayev's team, and in such a brutal way he would hardly have "taken out of the game" the first president of the country, – Andrei Valentinovich answered. – Throughout his biography, he demonstrated a completely different approach to solving problems: diplomatic, the desire to leave the "golden bridge" to his opponent when retreating.
– I do not exclude that he could have been burdened by a strong dependence on Nazarbayev. But he would not have started such an adventure with mass pogroms. Today he uses the situation to consolidate power around him, but this does not mean that he also created this situation.
Agree: the law enforcement agencies openly sabotaged the instructions of the country's leadership to restore order, and if something was trying execute, then clearly without enthusiasm. Officials and the government acted in the same way.
Which ultimately worked against the citizens. I have lived most of my adult life in Alma-Ata, my friends stayed there. While the Internet was working, everyone unanimously reported that marginals came from suburban settlements who literally terrorize residents of large cities. If it were not clear what kind of people it is not clear where they came to Moscow, Muscovites would not like this situation either.
– Of course not. But if we compare with the neighboring Central Asian republics – Uzbekistan, Tajikistan, Turkmenistan, Kyrgyzstan – then yes, both salaries and pensions are quite high there.
But the crisis has not escaped anyone, in the last 2-3 years the standard of living in Kazakhstan has been actively declining. Inflation, rising prices … Citizens of the country took this blow in Kazakhstan much more painfully than, say, if it had happened, say, in Dushanbe or Tashkent.
– We always support the officially acting government. That is why they responded to Tokayev's request through the CSTO (to introduce a peacekeeping contingent – "MK"). The President of Kazakhstan does not bother with national patriotic topics, he studied in Moscow, worked for a long time in international structures. Not tied to large financial and industrial clans. By and large, for this reason, Nazarbayev nominated him for the presidency.
– I think everything will be fine. This is the "Yeltsin option", the family will remain "with their own people." Most likely, it will lose some of its influence on the country's economy and politics, but, by and large, nothing will change especially. There will be no persecution or repression.
– When deciding to send peacekeepers there, Moscow hardly thought of any economic benefit. Establishing elementary order in the neighboring republic is in the interests of Russia. Ending pressure on the non-Kazakh part of the population is also in our interests. Stabilization of the situation, absence of refugees on our territory – this will be the main acquisition of Moscow.
A video of the departure of Russian paratroopers to Kazakhstan has been published
Watch a video on the topic